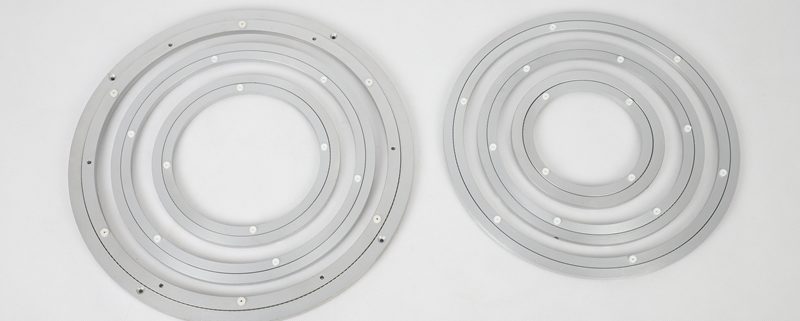 Entry-level Lightweight Standard Aluminum Lazy Susan Bearings from SZSMARTER
Today we are going to talk about this lightweight aluminum turntable bearing.
It is the most entry-level series of our aluminum swivel bearing products.
Because of its free rotation, thin material, affordable price, simple and classic appearance, it has been favored by customers from all over the world for more than 20 years.
These lightweight bearings suitable for applications with low load-bearing requirements, such as dining tables, lightweight display racks, etc.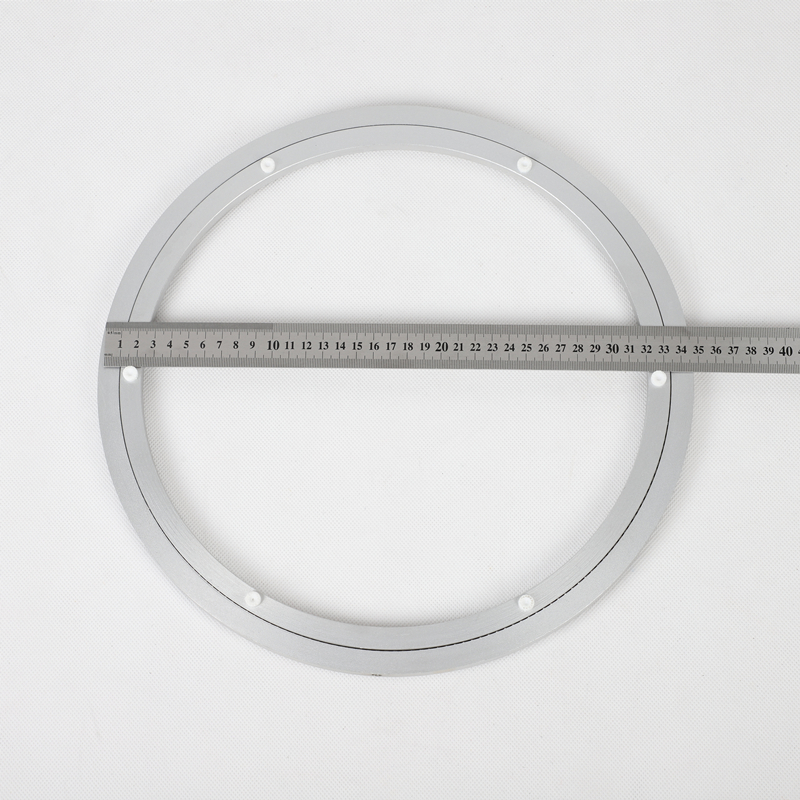 Like this a 14 inch lazy Susan bearing, with OD 350mm x ID 298mm x T 10mm, its safe load-bearing capacity should be about 60kg. For more than this weight, we recommend that you choose a stronger bearing with the same diameter to use. SZSMARTER has many different options. If a seller tells you that it can bear 150kg or more, we advise you not to believe it if the product parameters are the same. Yes, it is indeed capable in a short time under the condition of balanced rotation of 150kg, but when we buy any tools don't want to be used only once, but should conform to the product attributes, at least use more than 100,000 revolutions, right?
According to our safe load-bearing selection of suitable bearings, usually using 200,000 revolutions is completely no problem. This is the real result obtained through the actual test of our factory.
And of course, the load-bearing capacity of different product sizes is also different. For this standard aluminum revolving turntable, we have a diameter ranging from a minimum of 4 inches/106mm to a maximum of 32 inches/798mm.
Custom sizes are also acceptable. After all, our factory have complete production lines from aluminum ingot casting/die-casting molding to CNC machining, drilling, assembly, surface treatment, etc.
When it comes to production, we also have to talk about the accuracy of the bearing hole position. We often receive inquiries from some new customers that the bearings bought on the market cannot meet their strict precision requirements. At this point, what we want to say is that at SZSMARTER we are fully able to withstand your review. Because the precision machining and drilling equipment we use are customized by integrating our more than 30 years of aluminum bearings production experience, constantly improving and improving, they are definitely the best.
So please feel free to contact us for any request about aluminum bearings. We believe that our professional industry knowledge and timely service will be able to solve your current troubles.
https://szsmarter.com/wp-content/uploads/2021/07/szsmarter-entry-level-lightweight-standard-aluminum-lazy-susan-bearings.jpg
400
800
administrator
https://szsmarter.com/wp-content/uploads/2017/03/logo-1.jpg
administrator
2021-07-07 06:14:15
2021-07-07 06:29:33
Entry-level Lightweight Standard Aluminum Lazy Susan Bearings from SZSMARTER